Dallas Video Studio Rental
If you are looking for an affordable video studio in Dallas, look no further than our state-of-the-art facilities to meet all of your needs.
We work in collaboration with two green screen studios close to downtown Dallas and offer cutting edge production equipment and a talented and experienced team, including videographers, writers, commercial producers, and editors. we can provide facilities with or without crew — we'll ensure your shoot goes smoothly and make you feel right at home!
Among our many amenities, we can provide a Chromakey backdrop and flooring for your shoot, giving you infinite possibilities in post-production. Chromakey green screen technology is a special effects technique that enables filmmakers to pull out the specified color hue and composite two images or real time streams.  Chromakey technology has been used extensively by the news, commercial, motion picture and gaming industries to remove a background from an image and replace it with another one. The demonstrated versatility of our green screen is what makes us one of the leading DFW area studio rental providers.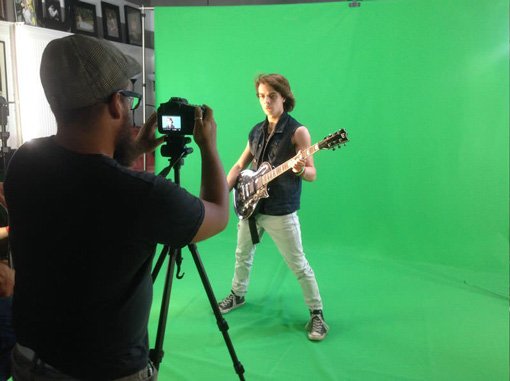 Call 972-318-2811 to check availability and request a free quote for your next project.
Our green screen studio locations are based in downtown Dallas and in the Dallas photography district. Both are convenient to Fort Worth, Coppell, Carrollton, Lewisville, Plano and Frisco, and enables us to provide video production services to clients throughout North Texas and beyond.  The ready accessibility of our space and comfortable atmosphere are why so many of our customers have become repeat clients. We pride ourselves on offering a personable atmosphere, so even the most camera-shy can feel at ease during studio video shoots.
Bring your own camera crew, or let our professionals film your video for you. We also offer scriptwriting and post-production services. Photographers are welcome, as well! For rental bookings, please call 855-55-VIDEO or 972-318-2811.  If you need a versatile, experienced and budget-friendly studio, call GlobalVideoHQ today!