Video Production in DFW and Beyond
You've conceived  a great idea for a marketing project — a video that will get the attention of viewers and turn casual browsers into buyers and brand loyalists. Now, you need a production company with the expertise to bring that idea to life. You need a team of talented, experienced and creative producers, directors, camera operators and visual editors. Or, maybe you need a large green-screen studio with the latest in HD camera equipment, teleprompters, and live switching systems to support your project. Whatever your needs, GlobalVideoHQ can help.
SCROLL DOWN TO VIEW SAMPLES! CALL (972) 318-2811 TO REQUEST A FREE QUOTE
GlobalVideoHQ provides local and national clients with the kind of high-quality production that gets the message across and gets them noticed. We treat every client project with the care and attention to detail that we apply to our own projects.
Come tour our 1000-square-foot studio in north Dallas, check out our top of the line camera and audio equipment, and see how we can make your projections shine.  Our studio is located just 15 minutes from DFW airport and 20 minutes from the Dallas North Tollway and 121 Toll Road.  Clients enjoy access to free wifi, as well as a comfortable front office space to relax in preparation for a shoot and get some work done at the same time.
Call us today at 972-318-2811 to learn more about our company, our equipment, our facility and our talent, or simply spend a few minutes on our site. When you work with GlobalVideoHQ, you've chosen the right Dallas company to bring your vision to life.
Need inspiration? Check out these samples of recent projects: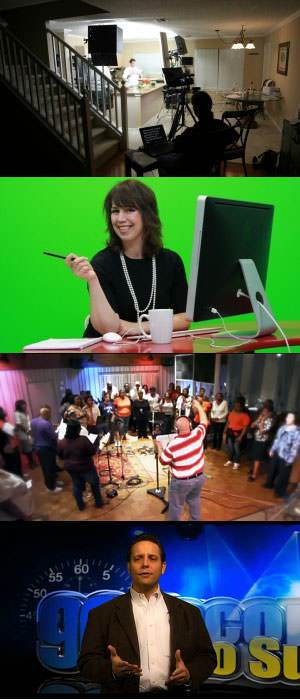 Overview of spa270, taped on-location. Post-production included editing, audio adjustments and music bed, lower-third and end slate graphics.
Resident Ryan Hartsell shares why he and his beloved pooch, Bunny, love life at the Metropolitan in downtown Dallas. Video production services included creating intro graphics package with music bed, location shooting, and post-production editing, including lower-third and closing graphics.
Madeline Robison, founder of Madeline Hymns, shares the importance of keeping the mind, body and spirit in alignment to preserve health and work through grief. Taped at our green screen studio with a live key and addition of lower-third graphic using the Tricaster live production system.
Yes, you can do a commercial on a budget! We combined stock photography and voiceover narration to tell a compelling story in this spot for CosmetAssure.
Quality Services at Affordable Prices
Dallas is a center for broadcast and corporate video production in Texas and nationwide, but studios in the heart of the city can be pricey. Our location in Lewisville is convenient to all major highways and offers the same high-quality product as the larger downtown corporate houses, with more affordable rates.
We have provided quality services to clients across a broad range of industries, from medical to construction, education, financial, insurance, and non-profits. We have the experience necessary to provide insights and counsel that can turn your project into something extraordinary. Whether you're a privately owned business or a large corporation, a professional athletic team, entertainer, speaker, or sales trainer, our knowledgeable and talented team will craft a visual narrative to communicate your message with clarity and impact.
Contact us online, or call us today at (972) 318-2811 to request a free quote!