We pride ourselves on our flexibility and  client-centered approach to each of our projects. We understand that filming in our studio can be a challenge for some clients, while others simply prefer to record their project in a location other than our studio, whether it is their businesses, private residences or in public venues that can't be replicated using green-screen technology. We can bring our production crew and our advanced equipment to any location in the DFW Metroplex and beyond, giving you more freedom and flexibility for your next video project.
Through our extensive experience with location shooting, we know three factors are key to a successful project: lighting, shot composition and sound. Depending on the environment, these elements can be difficult to manage when you are filming on location. Our expert producers, camera operators and audio engineers will work closely with you to ensure that environmental factors are taken into consideration and the finished product shines.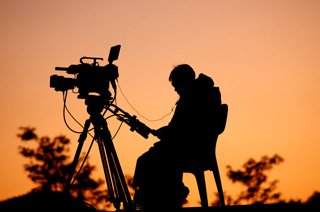 If you request location shooting in Dallas, GlobalVideoHQ will dispatch a camera operator and producer to the location of your choice.  These two professionals know what to look out for when shooting on location.  They will ensure that the lighting is appropriate and that the sound conveys what you want to the intended audience.  They can make creative adjustments that will benefit a shoot and can, through their experience, anticipate and address any problems that may arise during the shoot.
Well in advance of a location shoot, we will consult with you about your project to determine your precise expectations and needs. If your project is larger or more complicated than most, we can dispatch a DP to the location for an initial walk-through.  We have worked with experts in lighting, sound and cinematography, and can bring specialized knowledge and expertise needed to make the location shoot as successful as it can be.
Whether you are planning a television commercial, cooking show, sales training series, product demonstration, or any other type of video project requiring footage shot on location, GlobalVideoHQ can exceed your expectations.  We also offer live streaming video broadcast services and can record the live streaming footage simultaneously.
For additional information about our location shooting services, please contact us at (972) 318-2811.