Corporate Video Production
Unmatched Corporate Video Production
Effective video production is essential to any corporation's success, and yet most corporations neglect this part of their communications strategy. Most corporations settle for videos that are, at best, ordinary or are, at worst, dull. Why develop a reputation for uninspired videos when you can partner with GlobalVideoHQ, and create compelling videos that support your business — delivered on time and on budget.
Call us at 972-318-2811 for a free quote on your next project.
Whether you are looking for a training video for your employees or are crafting a new message for your sales team, we have the knowledge and the experience necessary to make your video a success. Our team of video production experts can help you develop a strategic vision and can deliver finished products that will effectively communicate that vision.
Our portfolio includes corporate videos in the following areas:
Training and Support
Employee Orientation
Sales and Marketing
Documentary/Archive Pieces
Tradeshow Exhibit Booths
Corporate Messaging for Company Websites
Video Newsletters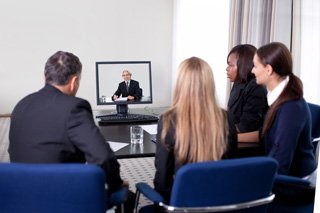 Our Consultative Process
At GlobalVideoHQ, we strive to develop an understanding of our clients' businesses and their aims.  We begin every project by asking you about your company's objectives.  We will study your customers, your current branding and your strategy.  This information enables us to develop final videos that are aligned to your business's strategy.  Our competitors often neglect this part of the video production process, forgetting that a video serves a purpose; it's not enough to make a polished professional-looking video.  It has to work in tandem with your corporation's communications strategy and effectively transmit your message.
After we have decided on a strategy for your video production needs, we will devise an individualized plan for your project.  We appreciate that different projects have different requirements, and so we will carefully evaluate your needs, your message and your budget.  We will then deliver a final product that delivers your message and does so within the budget you have established.
As a Dallas video production leader, GlobalVideoHQ provides comprehensive services. We can write high-quality scripts, storyboard your production and even find you a talented director to helm your video.  In addition, we can provide you with animation, music and the other elements that can make your video come alive. These "extras" are often forgotten but, in our experience, they are what sets a video apart; effective scripts and post-production transform a video from just another production into a film — an experience that viewers will remember.
Let us help you create memorable, distinctive videos that can bring your corporation's message to a larger audience.  To learn more about our video production services and capabilities or explore an idea for your next corporate video, call (972) 318-2811 today!